Laser Skin Restoration
Conveniently located to serve the areas of Fenton, Sterling, Livonia and San Diego, CA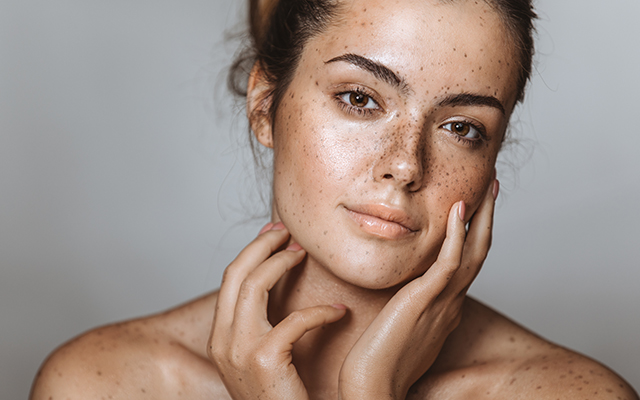 Sun exposure, environmental pollution, stress and the normal aging process all work at weakening the underlying foundation of the skin's surface. The sub-dermal collagen and elastin support network breaks down. Lines and wrinkles appear, pores enlarge, age spots surface and facial structure loses its fight against gravity.
Environmental Effects
Brown spots on the skin may often be perceived as a sign of aging, like fine lines and wrinkles. Freckles are cute when you were a kid, but now these melanin deposits look more like the result of too many days lounging in the sun. Freckles, liver spots, sun spots – whatever you call them, they're technically known as pigmented lesions and they form when melanin concentrates in one area of the skin, usually as a result of over exposure to the sun's UV rays.
Laser Skin Treatment Technology
Our 1064 Laser uses a precise wavelength of light energy that goes where topical treatments can't. It safely penetrates the skin and reaches deeper layers to stimulate collagen growth. As collagen regenerates it diminishes fine lines, wrinkles and acne scars. Scientific studies establish that laser therapy helps create a rejuvenated appearance, smoother texture, even skin tone and decreased pore size.
Our 532 wavelength offers a proven method to take out most brown spots and unwanted pigment. The light vibrates and shatters the pigment and breaks the melanin into micro-particles, lightening and removing the dark spot. The spot will temporarily turn gray or white for a few minutes as the skin absorbs the energy. Any post-treatment discomfort will feel similar to a mild sunburn, and any redness will dissipate within a day or two as the skin returns to its natural color.
Expectations
As laser skin treatment is administered, patients describe feeling a tingling sensation and not discomfort. Therefore, a topical anesthetic is not necessary. Because non-ablative laser rejuvenation is a gradual process, we recommend four weekly treatments in a row to jump-start your skin's collagen growth, followed by monthly treatments to achieve and maintain "Great Skin For Life."
And don't forget, if you have acne scars, want lip injections, or otherwise would want a complete skin makeover, we offer many skin rejuvenation procedures that you may be interested in. Call today for more info about how to reverse the signs of aging skin today!
Recovery
Laser skin restoration is becoming an increasingly popular solution for those wishing to slow down and reverse the signs of aging. It is typically performed in an outpatient facility where a surgeon will use laser equipment to rejuvenate targeted areas of skin and stimulate collagen production. One of the most appealing aspects of using non-ablative lasers is that minimal time is required to heal from the procedure.
How Long Does the Recovery Process Take?
Though patients may react differently to laser skin restoration, there is usually no recovery process to prepare for. The treated area of skin may temporarily turn red and become swollen following the procedure, but this can easily be taken care of by using ice packs as needed. The skin may look and feel comparable to a mild sunburn but should go away within 24-48 hours.
What is the Downtime After the Procedure?
In most situations, patients will be cleared to resume their normal daily activities immediately after leaving the medical facility. It's common not to take any time off of work other than the time allotted for the treatment. Women will also be able to apply makeup right away
Is the Treatment Painful?
Another benefit of non-ablative laser skin restoration is that there is no need for an anesthetic or numbing cream to be administered. There might be a slight tingling sensation that is felt, but there are generally no reports of pain or discomfort of any kind.
If you are interested in learning more about laser skin restoration, feel free to contact our highly skilled team of Michigan cosmetic surgery professionals at the Skin and Vein Center. We will be happy to schedule your consultation where you will get the chance to have all your questions answered and find out more about our knowledgeable and experienced cosmetic surgeons.
Considerations
Laser skin restoration has proven to be an effective method for reducing the appearance of wrinkles, fine lines, sun damage, and other skin conditions that people find undesirable. When performed by a cosmetic surgeon who has had plenty of experience with the equipment, the treatment is rather harmless for most patients. This is especially true when administering non-ablative lasers, which don't burn off the outer layer of skin. Regardless, as with any type of procedure you're considering, it's important to do the proper research and learn about any potential risks or side effects.
Pain Associated With Laser Skin Restoration
For most patients, there is no pain associated with non-ablative laser skin restoration. The most that is felt is a temporary tingling sensation. Therefore, it is not necessary to use a numbing cream or anesthetic.
Potential Side Effects and Safety Concerns
Because non-ablative lasers are minimally invasive, patients rarely experience side effects. However, this doesn't mean that there isn't the potential for problems to arise, because all patients are different. Some of the risks linked to laser skin restoration include:
Infection: Treatment can activate the herpes virus when it is already present in a patient's system.
Changes in skin pigmentation: Skin discoloration may occur in patients with darker skin color.
Blistering or scarring: There is a slight chance for blisters or scars to appear.
Mild redness or swelling: This will look similar to a sunburn and should only last from a few hours up to a couple of days.
In addition, patients may be advised against receiving treatment if they are pregnant or breastfeeding, have diabetes or a weakened immune system, have a history of radiation therapy on the face, have taken particular acne medications within a certain time period, or have a history of scar tissue overgrowth.
At the Skin and Vein Center, we will go over any safety concerns you may have about laser skin restoration so you can make an informed decision on whether or not this treatment is right for you. Contact us today to schedule a consultation with our cosmetic surgeons in Michigan.
Ideal Candidate
Laser skin restoration is a cosmetic procedure that is used to diminish signs of aging and sun damage. Numerous people have found value in undergoing laser skin treatment and seen great results. However, administered on the wrong person, the treatment increases the risk of experiencing side effects and can end up worsening the skin's condition. There are a range of factors that help to determine who the most ideal candidates are, as outlined below.
Skin Type and Tone
It is usually better for patients who are receiving laser skin restoration to have non-oily, elastic skin that isn't prone to scarring. Those with lighter skin tones are typically a better fit for laser skin restoration. This is because one of the potential side effects is hyperpigmentation in the treated area, which is a darkening of skin color. The less sun exposure, the better the outcome will be as well, no matter how light the original skin color may be.
Age
There is generally no minimum age requirement for starting the laser skin restoration treatment. Patients of all ages are able to take advantage of an enhanced appearance due to the elimination of embarrassing skin problems. Although, it is often recommended that people have already gone through their acne phase so as not to develop scarring after the procedure has already been done several times.
Medical Conditions
As a precaution, anyone with skin conditions, blood flow complications, or immune disorders may be prevented from getting laser skin restoration. This also goes for people with a history of abnormal scarring or fibrosis. Current use of the acne medication isotretinoin will likely require a patient to wait six months to a year before they can have the procedure done.
FAQ
What is Laser Restore?
Our procedure use advanced lasers to reduce the signs of aging such as fine lines, wrinkles, freckles, and brown spots. It uses a precise wavelength of light energy to produce better results than topical treatments. It also reinvigorates collagen production to create a rejuvenated, refreshed look.
Who is a good candidate for laser restore?
Candidates for Laser Restore are those between the age of 30 and 60, who are experiencing sagging skin, wrinkles and fine lines or pigmentation issues.
What is the laser restore procedure?
During the procedure, a hand-held laser device will be used to produce energy that will breakdown the pigment to lighten and reduce the appearance of dark spots. Other lasers with different wavelengths will be used to diminish lines and wrinkles as well as to boost collagen production.
What kind of anesthesia is used during laser restore?
No anesthetic is required for the procedure.
How can I prepare for Laser Restore?
There are no special preparations required for Laser Restore.
What can I expect during Laser Restore?
You may experience a tingling sensation, however, you should not experience any discomfort.
What can I expect post-procedure?
You should see results within a few days as collagen is boosted, and the pigments are broken down. It is a gradual process, so multiple treatments are recommended.
What is the recovery time for Laser Restore?
There is little to no downtime or recovery after the procedure.
What are the risks associated with Laser Restore?
There are minimal associated risks with Laser Restore.
What is the cost for Laser Restore?
The cost for Laser Restore will be discussed at the time of the pre-operative visit.