Dermatology
Conveniently located to serve the areas of Fenton, Sterling, Livonia and San Diego, CA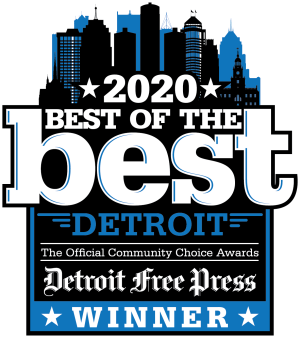 Dermatology is the specialized medical field concerned with the diagnosis and treatment of skin disorders. These can include medical, surgical, and cosmetic dermatology fields. Skin problems can occur in anyone of any age or stage of life. In fact, statistics show that one in three Americans may suffer from some disorder of the skin at any given time. The main fields of our Michigan dermatology services include:
Medical dermatology is the diagnosis and treatment of diseases that can afflict the skin, nails, and hair in patients of any age. These age groups include pediatric, adolescent, adult, and geriatric.
Surgical dermatology uses surgical methods to treat skin diseases. These treatments include cutting away the diseased area; cryosurgery that uses liquid nitrogen to freeze the affected area; and electro destruction that uses electricity to destroy the diseased area.
Cosmetic dermatology uses treatments to improve the appearance of the skin, hair, or nails rather than treating a disease. Cosmetic dermatology treatments can include cosmetic surgery, injectable treatments, or laser treatments.
When visiting a dermatologist, a patient will discuss his or her medical history. The doctor will then examine and diagnose the skin problem. The physician will also explain the advised course of treatment. These consultations are also part of any cosmetic procedures that a patient may be considering.
Michigan Dermatologists
Skin problems can affect anyone, at any time; fortunately, the Skin and Vein Center employs some of the most professional dermatologists in Michigan, and we'll make sure you get the treatment you deserve. To learn more about the treatments available, and to visit the best dermatologist Michigan has to offer, call The Skin & Vein Center at 800-400-VEIN.
Skin problems that are treated by Michigan dermatology professionals include, but are not limited to:
We treat all dermatological conditions and perform everything from minor procedures to very advanced procedures including large excisions and MOHs surgery for skin cancer. We are also experts in vein treatment. We treat patients of all ages and we accept most insurances.
Why See A Dermatologist
There are many reasons why a person might go seek out a dermatologist to diagnose or treat any number of skin ailments and issues. There are also many people who aren't sure if they should visit a dermatologist and have never done so before. If you're not quite sure what a dermatologist can do for you and if you should make an appointment to see one, here are some of the top 5 reasons why seeing a dermatologist is probably a good idea.
You Have a Suspicious Mole
Lots of people have moles; some have been a part of a person's body since birth and others appear on their own over the years. Getting a full skin exam every year from a top dermatologist is something that most people should consider, especially people who either have lots of moles by nature, have developed new moles, or have moles that have changed in size, color, or shape. Moles or sun spots on the skin that are painful, itchy, bleed, or any sores that don't heal are also very important to get checked out by a licensed and experienced dermatologist.
If You Have a Family History of Skin Cancer
Those with a family history of skin cancer or serious skin conditions should see the best dermatologist they can find regularly to catch early warning signs of a developing cancer or other serious skin growth. Those with a history of sunburns should also seek a dermatologist's expert eye.
Persistent Acne
Acne is a regular part of growing up for many people, but for others, the acne doesn't seem to respond to any over-the-counter treatments or lessen in severity into adulthood. Sometimes a condition that looks like acne might also be something else. If a person is experiencing persistent acne, what appears to be acne, or acne scarring and the embarrassment associated with such, a trip to a top dermatologist can work wonders.
Patches of Skin That Are Noticeably Lighter or Darker Than Elsewhere
Some serious skin conditions can result in light or dark spots on the skin (including lymphoma, a type of cancer). Because there's a possibility of something serious developing, its best to have a dermatologist examine these spots to see if there's a need for concern.
Red Skin Flare-Ups
Lots of different types of skin conditions can show up as red patches. Many of these conditions, including eczema or seborrheic dermatitis, affect only the skin itself, but others, such as psoriasis or lupus, are associated with internal issues, so a dermatologist should examine any red patches.
Finding the best dermatologist for you will depend on their specialty and your individual needs, but it is important for you to visit a dermatologist regularly to keep your skin in good health! Visit our Skin and Vein Centers today!
Choosing Your Dermatologist
Your skin is your largest organ and its health is important to your overall well-being. With so many things that can go awry with your skin, a good dermatologist is invaluable and can make a huge difference in the way you look and feel. So how do you go about choosing the right dermatologist and how do you know what to look for in a dermatologist? Here are some tips for how to find a good dermatologist that is right for you.
Check Their Biography
If you've found a handful of dermatologists that you're considering, take a moment to check out their bios (usually posted on their website). Look for board certification specifically from the American Academy of Dermatology.
By viewing their bios, you can also learn about a dermatologist's specialty. Some may specialize in fillers or facials, while others specialize in treating skin cancer or acne. Depending on what type of skin issues are most pressing to you as an individual, you'll want to choose accordingly.
Schedule a Consultation
By scheduling a consultation with our Skin and Vein Centers, you can meet your potential dermatologist and get a feel for his or her mannerisms and abilities while also asking lots of questions about a procedure or issue you're looking into. You may also be able to meet other patients in the waiting room and ask them about their experience with the dermatologist in question.
Listen to Learn
During your consultation with a prospective dermatologist, focus on listening. The best method is to give a vague reason for your visit and then let them do the talking. Perhaps mention the lines on your face or veins that you wish you didn't have, but don't go into detail about the methods you've researched on your own. Instead, listen to how the dermatologist would address the issues and their opinion will give you an idea for how aggressive their treatment methods are and what kind of approach they take to treating those issues.
Look for Recommendations
Online reviews and recommendations can be a little misleading for some who are looking for unbiased opinions and not just the most positive reviews that a dermatologist has chosen to present on their site. Ask friends, family members, and neighbors for a recommendation for a good dermatologist in your area, or ask your general practitioner for a recommendation for a dermatologist that they like and trust themselves.
Once you find a dermatologist that works for you, build a strong relationship with them by making regular visits. All aspects of your health are important, and that includes the health of your skin!