Mini Facelift
Conveniently located to serve the areas of Fenton, Sterling, Livonia and San Diego, CA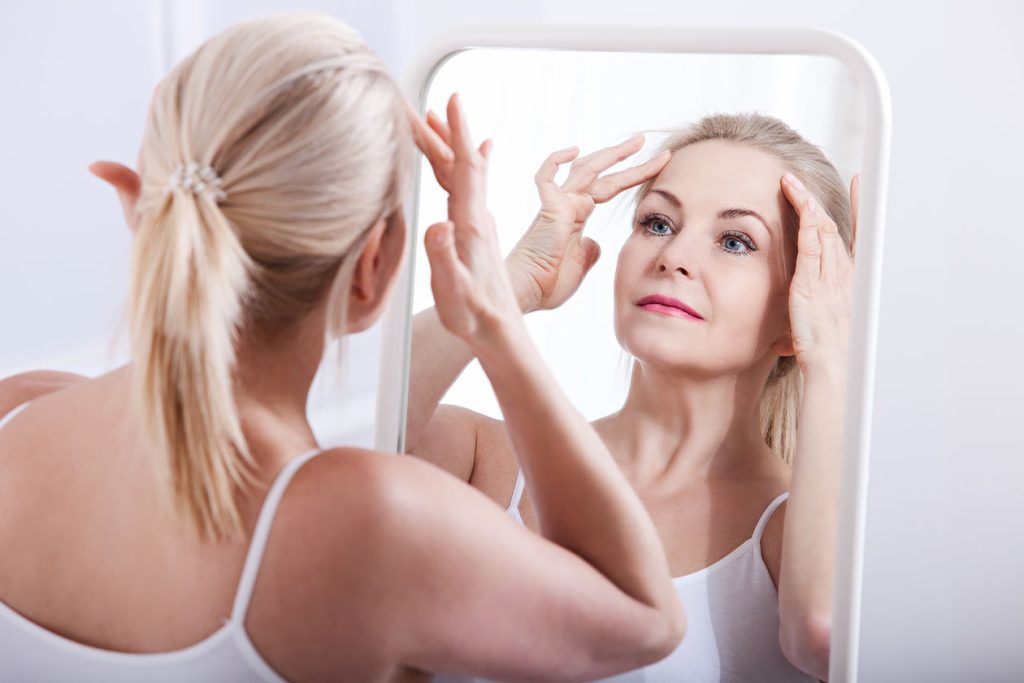 A mini facelift is also known as a limited incision facelift, a rejuvenating facial surgery that uses small, discreet incisions to lift and smooth the face. Patients who choose to undergo a mini facelift enjoy a more affordable, less invasive way to turn back the clock, as well as shorter recovery time and targeted improvements for the lower face. Most people start to think about a facelift when they find themselves dismayed at their reflection, and pushing their skin back towards their ears to see what they used to look like. For those looking for long-term improvements like firmer skin, less sagging, and fewer lines and wrinkles, a mini facelift is an excellent solution. Patients in San Diego and La Jolla now have the ability to experience the dramatic results that Dr. Eric Seiger's revolutionary HourLift can offer, and join the thousands of satisfied patients that have achieved natural-looking rejuvenation with his advanced version of the mini facelift. After years of success in Michigan, Skin & Vein now offers men and women in San Diego premier dermatology and cosmetic services at a convenient location on Villa La Jolla Drive. There's no reason your appearance should keep you from feeling your very best. If you've been thinking about a facelift, but are hesitant to commit to the extensive incisions and long recovery times that a traditional facelift requires, you owe it to yourself to learn more about what this transformative procedure can do. Call 619-704-2100 to schedule a personal consultation and get started.
About Aging
There's a lot that changes as the years pass, and needless to say, most of those changes are more than skin deep. Nevertheless, the skin on our faces doesn't get any favors, no matter how vigilant we are about our skincare routine. It's one of the few parts of our bodies that are always on display, and nearly constantly exposed to the elements. Photodamage and other environmental stressors can accelerate the aging process, in particular the breakdown of collagen, which keeps our skin firm and smooth. And while we notice additional wrinkles and looser, thinner skin as a result, there are also other structural changes that occur as the years pass. The many compartments of fat that give our face its youthful contours atrophy and descend. And on an even deeper level, changes occur in the bone structure of our face, which can leave cheeks looking sunken, and our jawlines less defined.(1)
Other common signs of aging include:
Loose and excess skin
Thinner, crepey skin
Poor skin tone and texture
Volume loss and unwanted fat deposits
Less pronounced bone structure
About Facelifts
Before and After Photos
Luckily, we have a better understanding of these changes than ever before, which has allowed surgeons to develop more effective solutions!(2)
There's no shortage of options when it comes to facial rejuvenation. Laser treatments can firm skin and resolve pigmentation issues. Dermal fillers can restore volume in targeted areas. However, in order to truly address the changes that occur beneath the surface of the face, surgical facelifts remain the gold standard. This can be daunting, since many of us are all too familiar with the "stretched" or "wind-swept" appearance that can result from poorly performed facelift surgery. However, when performed by a skilled surgeon who specializes in advanced techniques, patients can look forward to natural-looking results and a refreshed appearance.
Long gone are the days of facelifts that simply pulled back the skin. Today's facelift techniques address the deeper tissues of the face, so that youthful contours are restored, and skin is smoothed, not stretched.
Better understanding of facial anatomy has also allowed surgeons to make more meaningful changes with shorter incisions and less invasive procedures, which means a faster and more comfortable recovery for patients. That's why more patients today are opting for a mini facelift.
What is a Mini Facelift?
Mini Facelifts use short incisions that are concealed in the natural curves of the ears. Dr. Seiger's proprietary HourLift is a unique mini facelift and has become an accessible and effective way for patients to achieve a natural-looking, rejuvenated appearance.
After an HourLift, patients enjoy better jawline definition, smoother skin, with dramatically reduced jowling and nasolabial lines.
Dr. Seiger began offering HourLifts over a decade ago, and since then has performed over 6,000 of these transformative procedures.
HourLift Plus Facelift
For patients that want to extend their facial rejuvenation, the HourLift Plus also addresses loose skin and other signs of aging on the neck. Smoother skin, better chin definition, and a more streamlined neck and jawline contours not only reverse signs of aging but can also make patients feel more slender and vivacious.
Hour Lift Ultimate Facelift
It's called The HourLift Ultimate for a reason! This affordable mini facelift also includes a minimally invasive neck lift as well as natural filler injections for a customized procedure and artistically sculpted results. After repositioning and lifting the underlying facial tissues and removing excess skin, Dr. Seiger uses specialized injection techniques to restore volume lost during the aging process. Because of his comprehensive approach, results look natural and harmonious. a
Mini Facelift Benefits
Dr. Seiger developed this range of minimally invasive facelift procedures to deliver effective results, and offer patients some well-deserved and significant benefits!
Advantages of an HourLift include:
One of the most affordable facelift procedures available in the US
Fewer incisions and a procedure that can be completed in an hour
Patients can look up to 10 years younger, and results can last up to 10 years
85% of patients don't experience bruising after surgery
The HourLift is a shorter and less invasive procedure, and as a result, dramatically reduces the risk of complications associated with traditional facelifts. While traditional facelift procedures can address a more extensive list of signs of aging, and can potentially last longer in certain patients, there are more potential risks that patients must consider. Many layers of facial tissue are altered during a facelift, particularly during facelifts like the deep plane facelift. These layers contain intricate networks of nerves that control sensation and muscle movement. For those who simply aren't willing to gamble, a mini facelift performed by a skilled surgeon is a logical alternative. Dr. Seiger is a member of the American Academy of Cosmetic Surgery, American Academy of Dermatology, and the International Society of Dermatology. His extensive experience performing these procedures and outstanding care ensures that patients can confidently expect a safe procedure and exceptional results. Unlike the traditional facelift and other plastic surgeries, a mini facelift can be performed in less than two hours. Another advantage is the reduced cost. While a traditional facelift can cost $10,000 or more, Dr. Seiger's HourLift procedures are priced starting at $3,900. However, when it comes to patient comfort and savings, another advantage to consider is that the HourLift can be safely performed in-office under local anesthesia.
Advantages of Local Anesthesia
Most extended facial surgeries are performed using general anesthesia. And, although it's used every day, there are considerable risks associated with this form of anesthesia – often more than the actual surgery itself. After general anesthesia is administered, patients aren't "asleep" – they're unconscious. Although the patient isn't aware of any pain, their body is. The barrage of pain signals that occurs during surgery can lead nerves to become hypersensitive, and as a result, patients can experience greater levels of discomfort after surgery that extend further into their recovery. The HourLift is performed using local anesthesia, so the area is completely numb during the procedure, and nerves are spared the stress that occurs during surgeries using general anesthesia. And, because local anesthesia lasts well after the surgery is complete, patients remain numb and comfortable for many hours after returning home.
Other drawbacks of general anesthesia include:
Intubation can lead to sore throat and difficulty swallowing
Medications in general anesthesia can cause side effects of nausea, vomiting, and constipation
Changes in heart rate, blood pressure, and cardiac events(4)
Mini Facelift Candidates in San Diego
Candidates for a mini facelift have a good understanding of what this procedure can achieve. For those who are tired of repeating temporary dermal filler injections, a mini facelift is an appealing alternative with long-lasting results. This procedure focuses on rejuvenation in the lower face, so candidates are typically looking to address early signs of aging, or looking to address jowling and other signs of aging below their cheekbones. However, this procedure can be performed on any patient that fits the criteria, including those who:
Are in good health, without certain underlying medical conditions
Are non-smokers or willing to stop nicotine use well before and after their procedure
Understand that results last 5-10 years
Have a positive attitude and are willing to follow all pre-and post-operative instructions
Personal Consultation
The best way to determine whether you are a good candidate for a mini facelift is to schedule an appointment for a personal consultation at our La Jolla offices. Dr. Seiger employs expert mini facelift consultants who pre-qualify candidates and share information on their suitability for the procedure. In some cases, Dr. Seiger will FaceTime patients or meet with them in the office.
Ready to get started? Call 619-704-2100 to schedule your consultation today!
Recovery and Results
Mini facelifts have a much shorter recovery time than traditional facelifts, and most patients are able to return to light activity in just three days. In the meantime, you'll wear be able to manage discomfort and swelling with ice packs. Sutures are removed a week after the procedure. Once any residual swelling has diminished, patients enjoy a younger, refreshed appearance with smoother skin and restored contours. While no one will be able to tell that you've had surgery, you can still look forward to the compliments!
How Much Does a Mini Facelift Cost in San Diego?
A mini facelift is considerably more affordable than a traditional facelift, and often only half the price. You'll be able to discuss your treatment plan and the cost of your procedure following your consultation with Dr. Seiger. Patients that qualify can take advantage of Skin & Vein Center's financing and payment plans.
References
Swift, A., Liew, S., Weinkle, S., Garcia, J. K., & Silberberg, M. B. (2020). The Facial Aging Process From the "Inside Out." Aesthetic Surgery Journal. https://doi.org/10.1093/asj/sjaa339
Barrett, D. M., Casanueva, F. J., & Wang, T. D. (2016). Evolution of the rhytidectomy. World Journal of Otorhinolaryngology-Head and Neck Surgery, 2(1), 38–44. https://doi.org/10.1016/j.wjorl.2015.12.001
Steadman J, Catalani B, Sharp C, Cooper L. Life-threatening perioperative anesthetic complications: major issues surrounding perioperative morbidity and mortality. Trauma Surgery & Acute Care Open. 2017;2(1):e000113. https://www.ncbi.nlm.nih.gov/pmc/articles/PMC5887586/