Skin Check
Conveniently located to serve the areas of Fenton, Sterling, Livonia and San Diego, CA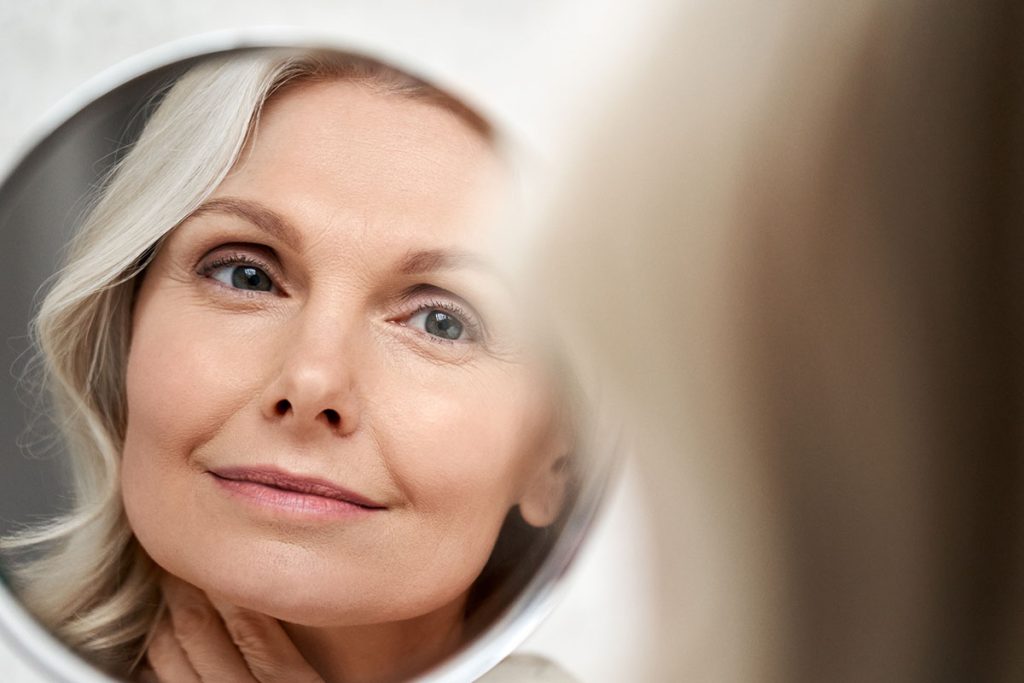 A skin check from a board-certified dermatologist is one of the most beneficial things you can do to take care of your skin and your overall health. It can be a routine visit to find out more about your skin's overall condition. It can help you to deal with common skin conditions like acne and eczema. Or it can help you find answers if you need a diagnosis.
There are many reasons you might visit the dermatologist, one of the most important of which is your peace of mind. Speaking to an expert about your concerns, or about any discomfort you are experiencing is important, especially if it will improve your day-to-day life. A skin check can give you an overview of your skin's health, and be a starting point for further treatment.
Your skin's health is Dr. Eric Seiger's priority. And at the Skin & Vein Center, you can receive a skin assessment to stay informed about preventive treatments, get specific conditions checked out, and find out more about improving the condition of your skin. For a comprehensive skin check with Dr. Seiger in Fenton, Sterling Heights, or Livonia, call (800) 400-8346. Patients in San Diego can reach our La Jolla offices by calling (619) 704-2100. Or, complete our online form to receive further scheduling details.
What's the Point of a Skin Check?
The point of a skin check is to provide you with a rigorous screening for any potential skin issues that may have occurred since your last visit, or to identify issues that may occur in the future. Like many of our other organs, the state of our skin can be an essential indicator of our overall health. And chances are, if your skin's health is in need of a boost, your general health is too!
A skin check is a thorough evaluation of your skin that allows a dermatologist to identify any potential issues. It involves a thorough visual check using a dermatoscope, an essential magnifying tool to see your skin up-close. It also includes a review of your medical history, to identify any predispositions or prior history of skin conditions.
Visiting a Dermatologist
Americans visit the dermatologist frequently! (1)
Close to 1 in 10 dermatologist visits are for a skin examination.
28% of under 18s visit the dermatologist for acne concerns.
10% of patients over 60 visit for skin lesion assessment.
The third-most common reason for a visit after skin lesions and acne is skin discoloration.
"At the Skin & Vein Center we specialize in helping our patients achieve healthy, beautiful skin. As a dermatologist with years of experience, I can assure you that our center is the perfect place for you to receive high-quality skin care services." – Dr. Seiger
The Skin Barrier: It Matters!
The epidermal barrier is the skin's protective shield. The area is known as the stratum corneum, and is composed of flattened keratin that acts like a "wall" to keep pollutants out. It has many defensive functions. (2)
Maintains water content and balance
Prevents and responds to germ invasions
Reduces the effects of UV light exposure
Mitigates the effects of oxidative stresses
Healthy skin starts with a healthy skin barrier. And if your skin's outermost layers are compromised, dryness, acne, itchiness, and flakiness are all common signs.
Expert help for your skin is just what the doctor ordered! Speak to Dr. Seiger to learn more about how to protect your skin barrier at the Skin & Vein Center.
Common Skin Issues
Acne
Actinic Keratosis (Solar Keratosis)
Aging Skin
Atopic Dermatitis (Eczema)
Cysts
Dry Skin
Itchy Skin
Hives (Urticaria)
Lipoma
Moles
Pigmentation Issues
Psoriasis
Rash
Rosacea
Scalp Conditions
Scarring
Skin Tags
Warts
Ready to book your skin check at the Skin & Vein Center? For a comprehensive skin evaluation with Dr. Seiger in Fenton, Sterling Heights, Livonia, or San Diego, call (800) 400-8346 or complete our online contact form for more booking information.
Your Skin Check Appointment
Medical History
A dermatological visit to the Skin & Vein Center begins with some forms outlining your medical history. We'll ask you for some basic personal information, take your brief medical history, and ask you to tell us what medications you're currently taking. If you have had any past skin conditions, or if you are experiencing problems with your skin currently, we will ask you to describe your symptoms, tell us where the affected areas are, and tell us if you have used any topical medications on them, along with the names of those medications.
Questions We May Ask
What prescription medications are you currently taking?
What over-the-counter medications do you currently take?
Do you take any dietary supplements?
Do you have any allergies?
How long have you had acne?
What medications have you used to treat your acne so far?
"Our skin checks are thorough, including a visual examination of your skin, as well as a complete medical history to assess your overall health. This process helps us to identify any abnormalities that may require further attention or treatment." – Dr. Seiger
Visual Examination
After finding out the relevant information from you regarding your overall health and your skin health, Dr. Seiger will perform a full body skin examination. Before exiting the room, he will ask you to change into a robe to prepare. Once you have put your robe on, and you are ready, he will re-enter the room and begin your physical skin check. He will note any areas of concern that you may have, and examine the up-close with a tool called a dermatoscope. The dermatoscope, a handheld device similar to a magnifying glass, allows for precise visual assessment of skin conditions.
Mole Check
Skin cancer is the most common type of cancer in the United States. (3) Dr. Seiger counsels all patients to keep a close eye on their moles to monitor any unusual changes. For melanoma, a type of skin cancer, there is a 5-step check to help you remember the warning signs. 
THE ABCDEs of Melanoma (4)
A – Asymmetrical: One half of the mole is not like the other half.
B – Border: The edges of the mole are blurred, irregular, notched, or ragged.
C – Color: The mole is unevenly colored (may include patches of brown, black, red, pink, or blue)
D – Diameter: The mole is larger than 6mm (0.23in) across.
E – Evolving: The mole is changing in size, shape, or color.
If you have any concerns regarding moles on any area of your body, please bring them up at your skin check appointment.
"At the Skin and Vein Center, we take pride in offering a comfortable and welcoming environment for our patients. Our team of experienced and friendly dermatologists and staff will make sure that you feel at ease throughout your entire visit." – Dr. Seiger
Procedures at the Skin & Vein Center
"We believe that preventative skin care is key to maintaining healthy and beautiful skin, and our skin checks are an essential part of that. Don't wait until it's too late to take care of your skin, schedule your skin check today at the Skin and Vein Center." – Dr. Seiger
Acne Treatments
Eczema & Dermatitis Treatments
Psoriasis Treatment
Rosacea Treatment
Laser Treatments
Cost of a Dermatologist Skin Check in San Diego
"Our skin checks are offered at an affordable rate of $125, making it accessible to everyone. We believe that everyone deserves to have access to quality skin care, and that's why we strive to provide affordable services without compromising on the quality of care." – Dr. Seiger
We look forward to welcoming you to our center and helping you achieve the healthy, beautiful skin you deserve. To book your comprehensive skin check in Michigan, call (800) 400-8346 or complete our simple form.
Find professional skin advice, and the latest information about cosmetic and medical skin procedures by reading Dr. Seiger's blog.
FAQ
What if I'm too scared to see a dermatologist about my skin?
One of the most common patient fears is that their trip to the dermatologist will be an unpleasant, shaming experience. This could not be further from the truth. Professional dermatologists really have seen every skin condition before, and have a bedside manner that reflects professionalism and empathy. Your dermatologist's office is a judgment-free zone, so feel free to book your personal appointment with confidence.
I have a skin condition in a sensitive area, what will happen at the dermatologist's office?
Dermatologists are very understanding that skin conditions can happen at any time, in any area of the body. Please rest-assured that your skin condition will be treated with the utmost professionalism and discretion. Your health and comfort are the most important factors.
What can I expect from a skin check at the dermatologist's office?
Although every dermatologist's office has a slightly different system, you can expect to provide written details about your overall health and the medications you're taking, as well as any skin symptoms you have been experiencing. After collection of the relevant details, your dermatologist will perform a visual check of your skin with a dermatoscope, a magnifying glass-like instrument that helps them to visualize the skin up-close.
How can I treat acne that won't go away?
There's more than one type of acne out there. And what works for one, may be ineffective with the nex. The most important step a patient can take toward better skin health is a professional opinion. Book a personal consultation with a board-certified dermatologist to assess your acne and formulate a treatment plan based on your individual needs.
References