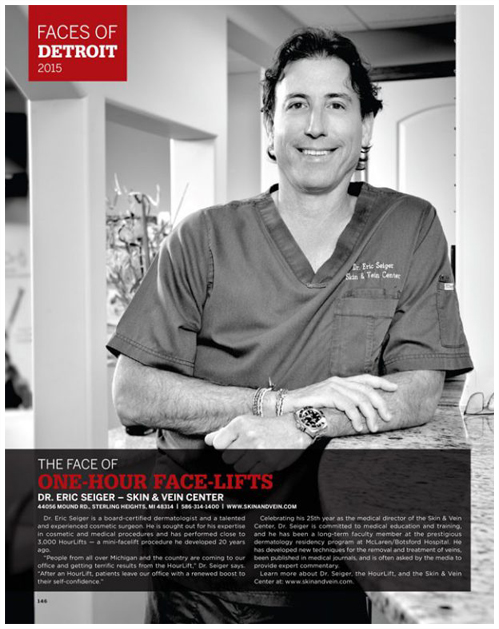 Dr. Eric Seiger pioneered the amazing HourLift Mini Lift procedure over 20 years. People travel from all over the world for this procedure. Learn more about the HourLift here or call us at 734-403-3881.
Dr. Eric Seiger is an experienced board-certified dermatologist and a highly skilled cosmetic surgeon. He has long been a community leader in medical education and training, as a faculty member of the prestigious Beaumont Hospital, Farmington Hills Dermatology Residency Program.
Dr. Seiger has helped to develop new techniques for the safe removal and treatment of veins. He has frequently been published in medical journals and sought out by the media to provide expert advice and commentary.
As a leader in the field of cosmetic surgery and enhancements at The Skin & Vein Center, Dr. Eric Seiger previously has been designated a National Certified Physician Trainer by the makers of both Botox® and Restylane®. His national reputation for the use of cutting-edge technology and science has led many of the country's best known medical equipment manufacturers to ask him to introduce new products and procedures in the State of Michigan.
Education:
University of Delaware, Sept 1977 – May 1981, BA- Biology
University of Medicine and Dentistry, New Jersey School of Osteopathic Medicine, Sept 1982 Graduated May 21, 1986
Professional Training:
Internship: Pontiac Osteopathic Hospital, July 1, 1986 to June 31, 1987
Residency: Pontiac Osteopathic Hospital, August 1,1987 to August 1, 1990
Major Professional Activity:
Practice Focus:
Dermatology, Dermatological Surgery, Treatment of Varicose Veins and Cosmetic Surgery.
Board Certifications:
American Osteopathic Board of Dermatology Date of Certification: November 11, 1992
Professional Societies:
American Osteopathic College Of Dermatology, American Academy of Dermatology, Michigan Association of Osteopathic Physicians, American College of Phlebology, International Society of Dermatology, International Society of Hair Restoration Surgery, American Osteopathic Association, American Academy of Cosmetic Surgery, American Society of Hair Transplantation
Hospital Affiliations:
McLaren Oakland Hospital, Pontiac, MI, August 3, 1990 – Present
St. Joseph Mercy Hospital, Pontiac, MI, December 21, 1993 – Present
Beaumont, Farmington Hills, MI, April 1, 2019 – Present
Genesys Regional Medical, Grand Blanc, MI, May 1, 1991 – October 5, 2000
Academic Appointments:
Dermatology Residency Program at McLaren Oakland Hospital, Pontiac, MI
Dermatology Residency Program at St. Joseph Mercy Oakland, Pontiac, MI
Dermatology Residency Program at Beaumont Hospital, Farmington, MI
Contributions to Medical and Surgical Literature:
The Nail: Published in Cutis – May 1991
Cutaneous Blastomycosis with Sarcoidosis
A Case Report: Cutaneous Lupus Treated with Topical Tretinoin.
Tumescent Technique / Ambulatory Phlebotomy: Published in The Journal of Dermatologic Surgery and Oncology – (April 1995) "Postsclerotherapy Pigmentation: Is serum ferritin level an accurate indicator?"
THE SUNDAY ADVANCE, Flint Michigan – Medical Review, Volume I, Number 15 (April 16, 1995): "Doctor's New Procedure Treats Varicose Veins in Office Setting"
THE GREAT LAKES SENIOR LIVING NEWS – Volume 2, Edition 11 (January 1995): "New Surgical Procedure Vaporizes the Varicose Vein"
THE JEWISH NEWS, Detroit, Michigan – (March 10, 1995): "Not in the Vein"
HEALTHCARE WEEKLY REVIEW – Volume 2, Number 3 (April 5, 1995): "Doctor's Pioneer New Varicose Vein Procedure"
DAILY NEWS – L.A. LIFE (May 22, 1995): "Varicose Veins Stand Up To New Procedure"
THE TIMES LEADER, Wilkes-Barre, Pennsylvania – (May 22, 1995): "Technique Eases Varicose Vein Pain"
THE NEWS & OBSERVER, Raleigh, North Carolina – ( May 22, 1995): "New Hope for Varicose Veins"
SOMERSET GAZETTE, Troy, Michigan – Volume 15, Number 40 ( May 29, 1995): "Pioneering Physicians Lead Michigan Medical Community in Treating Varicose Veins"
THE LEDGER, Lakeland, Florida – (May 30, 1995): "Treatment Eases Pain of Varicose Veins"
NEW WOMAN – (June 1995): "Varicose Vein Update"
THE ALBUQUERQUE JOURNAL – Number 156 (June 5, 1995): "Varicose Up Close"
THE DETROIT FREE PRESS – Section F, Body and Mind ( May 16, 1995): "A Leg Up on Varicose Veins"
THE RECORD B (June 5, 1995): "A One Time Fix for a Pain in the Leg"
TRIBUNE CHRONICLE – Health / Fitness (June 13, 1995): "New Procedure Makes It Easy to Clear Your Legs"
YOUR HEALTH – Medical Bulletin (August 8, 1995): "New Varicose Vein Surgery"
HERITAGE NEWSPAPERS / PRESS & GUIDE – (December 28, 1995): "Technique Developed for Easy Treatment of Varicose Veins"
NATIONAL WOMEN'S HEALTH REPORT, Washington, D.C. – Volume 17, Number 6 (November / December 1995): "Millions Suffer from Varicose Veins"
AMBULATORY PHLEBECTOMY – Symposium – (February 24, 1996): "Transplant Operations Are a Hair-Raising Procedure"
THE JEWISH NEWS, Detroit, Michigan – (June 7, 1996): "Down the Drain?"
THE ADVISOR MACOMB, North Clinton, Michigan – (June 6, 1996): "Tumescent Technique for Local Anesthesia"
THE DETROIT NEWS – Metro Life, Section J ( July 3, 1996): "Less Pain & Money Can Cover Your Bald Spots"
Featured On