Injectables
Conveniently located to serve the areas of Fenton, Sterling, Livonia and San Diego, CA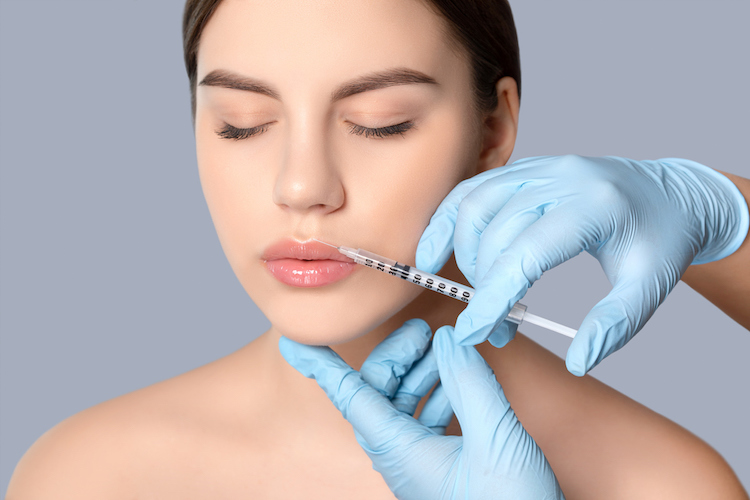 There are a wide variety of facial fillers being widely used today, each with its own unique benefits and purposes. With so many options available, it may be hard for many prospective patients to narrow down their options and choose a filler that is best for them. Here are some of the best facial fillers used at the Skin & Vein Center among our patients and some of their distinguishing characteristics and treatment uses.

Before and After Photos
About Fillers
Undergoing a Botox® or Dysport® procedure is relatively simple: After a consultation with Dr. Seiger has taken place, in which the patient will discuss their problem areas and hope for improvement, the injection is administered with a fine needle into the target muscles, with only a minor discomfort as a result. These toxins are carefully injected into the muscles behind the wrinkles which render the muscle unable to contract which in turn causes a relaxing and softening of surrounding wrinkles.
Injectable lip fillers in Michigan are commonly used to reduce facial lines, wrinkles, and facial imperfections such as laugh lines, lipstick lines, smoker's lines, and wrinkles at the corners of the mouth. They are also used to plump the lips and are often done with other procedures like face lifts and neck lifts. Common fillers are Juvederm in Michigan, Revanesse Versa, Restylane, Perlane, and Radiance. Depending on your desired result, the professionals at the Skin & Vein Center will recommend the best injectable, such as Juvederm in Michigan. Our list of fillers at Skin & Vein include:
Botox® before and after pictures and photos of patients have convinced thousands of others that these injections can provide them with a more flawless face and fewer lines – without anesthesia! Both of these injections are used to provide amazing before and after Botox® and Dysport® results by taking years off a person's appearance as crow's feet, frown lines, forehead lines, and laugh lines are virtually erased.
Each of these fillers works slightly different, in order to treat many different types of facial lines and wrinkles.
As the natural process of aging is underway, the youthful appearance that was enjoyed for many years slowly begins to fade and in its place are fine lines, deeper wrinkles, and sagging skin, which causes many people to look so much older than they feel. This increase in wrinkles, lines, and sagging skin is due to a loss of volume and the production of substances such as hyaluronic acid that is present in younger skin but slows in its growth with age.
Though there are plenty of over-the-counter creams and ointments available that promise to slow the appearance of these fine lines and wrinkles, most aren't very effective, especially if they are relied upon after the lines have already appeared. At the Skin & Vein Center, we offer a wide range of facial fillers to help restore much of what has been lost. Facial fillers can help restore volume and provide skin with a renewed appearance and a boost of moisture.
Patients of various ages and all skin types can benefit from Botox® or Dysport® injections and will notice significant improvements after three to seven days. Those who seek these injections can enjoy younger-looking skin and expressions for four to six months following their procedure, though after that time the lines will slowly begin to reappear and require follow up treatment to maintain optimal results. Wrinkles and lines may appear less severe with each treatment over time, as the muscles are trained to relax more.
Fillers At A Glance
Procedure: A small needle is used to inject natural Juvederm injectable fillers to create the desired fullness.
Preparation: A topical anesthetic cream may be applied to numb the treatment area.
Length of Procedure: A few minutes to a half-hour, with approximately a half-hour for the numbing cream to take effect.
Recovery: Minimal downtime. Some swelling, redness, or tenderness at the injection site may be experienced for a few hours to a few days.
Pain: Minimal
Juvederm®
Juvederm® is a collection of hyaluronic acid fillers that are commonly used to add volume to different areas of the face. Results typically last up to one year before a follow-up session is required.
Juvederm XC® and Juvederm Vollure XC® are used to address the loss of skin elasticity and to fill wrinkles and lines around the nose and mouth.
Juvederm Ultra XC®and Juvederm Volbella XC® add fullness and plump lips for a nonsurgical alternative to lip enhancement.
Juvederm Voluma XC® is used to add volume to the cheek area to correct volume loss.
Revanesse® Versa™
Revanesse® Versa™ is a hyaluronic acid dermal filler that is most commonly used to treat the signs of wrinkles and folds on the face including, lip enhancement and nasolabial lines. Revanesse® Versa™ is minimally-invasive and has immediate results. Most patients see results for up to twelve months after treatment.
There are a number of types of injectable fillers on the market. Other common brands of fillers are listed below:
Minimizes the appearance of wrinkles for up to a year
Manufactured in small batches to ensure the highest quality standards
Produced in the USA and is FDA approved
With the use of a topical anesthetic, there is little to no pain
The treatment is minimally-invasive and provides immediate results
The minimally-invasive procedure leads to minimal downtime
Restylane®
Restylane® is another family of hyaluronic acid fillers used in treating smile lines, brow lines, lines around the lips and beneath the eyes, and nasolabial folds. Results typically last between 6-8 months. Deeper folds are not recommended for treatment with Restylane®.
Radiesse®
Radiesse® is a calcium hydroxyapatite filler with particles suspended in hyaluronic gel. This filler is often used to treat smile lines and "marionette" lines, cheeks, and broader, deeper folds. Results of Radiesse® treatments can last from a year to a year and a half before a follow-up treatment is required. Radiesse® is not suitable for lip augmentations as it is a thicker filler and can cause lumpiness in the lips. Radiesse® is a filler made up of composition similar to bones, so it cannot be reversed, which can be a positive or a negative thing depending on the outcome of the patient's intentions.
Benefits
Restylane® fillers can significantly reduce the appearance of lines between the eyebrows, erase worry and smile lines, fade nasolabial folds and laugh lines, and diminish the appearance of crow's feet. Restylane® lip volume enhancements are another popular use to get you Restylane lips. Injections of Restylane® for lips at the Skin & Vein Center generally take no longer than a half hour to an hour to administer and are injected using a very fine needle so that patients experience little to no discomfort whatsoever. Results are noticed almost immediately and patients are able to return to their normal activities directly following their treatment session.
Preparation
Before your treatment, you will be instructed to stop using any non-steroidal anti-inflammatory medications, aspirin, St. John's Wort, or high doses of Vitamin E. These supplements and medications can increase bleeding and bruising. Also, tell us about any previous facial cold sores, as we can prescribe medication to minimize the chance of recurrence. An anesthetic cream will be applied to the area to reduce possible discomfort. A small needle is inserted and then the proper amount of filler is injected into the treatment area. After any minor swelling subsides, a follow-up treatment may be required to refine the results. You may experience some redness and tenderness at the injection site; however, these symptoms will normally disappear within a few hours to a few days. If you are interested in Skin And Vein Cosmetic procedures, such as lip injections in Michigan or other injectable fillers, please contact us for your Michigan injectable filler consultation!
FAQ
What are injectable fillers?
Injectable fillers are used to enhance and plump the lips, reduce wrinkles and lines, and restore lost volume. Common fillers are Juvederm, Radiance, Restylane, and Perlane.

What is the injectable filler procedure?
A small needle will be used to inject the chosen lip filler to create a fuller look.
Who is a good candidate for injectable fillers?
Anyone who is looking for fuller lips and/or reduction of the look of lines and wrinkles is a good candidate for lip enhancement.
What is the injectable filler procedure
A small needle will be used to inject the chosen filler to create a fuller look.
What kind of anesthesia is used during injectable filler procedures?
A topical anesthetic cream will be used to numb the area.
How to prepare for Michigan lip injections?
Before the Michigan lip injections procedures, you will be required to stop any non-steroidal anti-inflammatory medications, aspirin, St. John's Wort, or high doses of Vitamin E to reduce bleeding or bruising.
What can I expect during the procedure?
A topical numbing cream will be applied and then a small needle is used to inject natural filler to create the desired appearance.
What can I expect post-proceudre
Downtime is minimal. You may experience some swelling, redness, bruising, or tenderness that will usually alleviate itself after a few hours to a few days. However, it is recommended that you avoid strenuous exercise for 24-48 hours after receiving injectable fillers.
What is the recovery time for injectable fillers
You can return to your normal routine immediately.
What are the risks associated with injectable fillers?
While risks and complications are uncommon, they include prolonged swelling or bleeding, lip asymmetry, lumps or irregularities, ulcerations or scarring, allergic reaction, or infection.
What is the cost for injectable fillers?
The cost of the injectable fillers will be discussed at the time of the pre-operative visit.
Are injectable fillers permanent?
Most Natural Fillers aren't permanent and last up to a year, such as Juvederm that lasts from 6 months to a year, Revanessa Versa up to six months, Radiance approximately 18 months, Restylane – 6 months and Perlane six months to a year. You must understand that each of these fillers has its benefits and is used to give a different look, so before booking an appointment, get advice from our professional team at the Skin & Vein Center.