Chin & Neck Lift
Conveniently located to serve the areas of Fenton, Sterling and Livonia, Michigan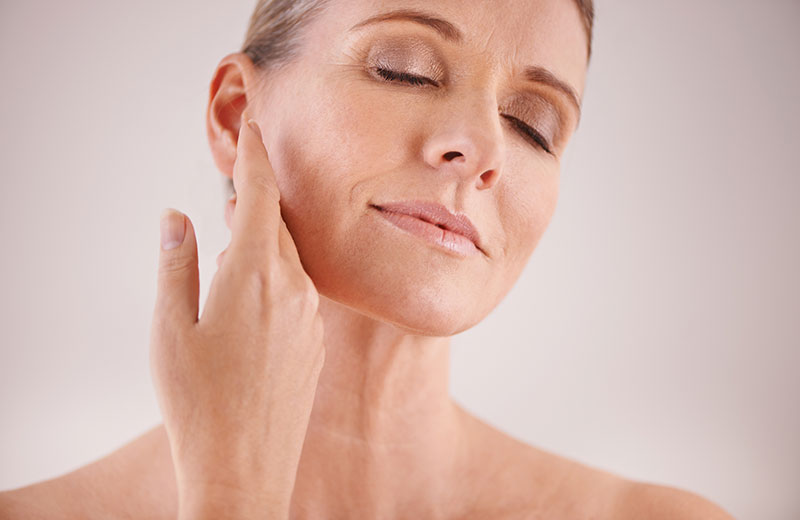 If you are wondering how to tighten your neck skin with quick and effortless results, then our neck lifts – with or without liposuction – is the answer you are looking for!
If you suffer from turkey neck, loose neck skin or a sagging neck, why not consider the benefits of a neck lift in Michigan at Skin & Vein Center? Excess neck skin can add the illusion of years and pounds onto your age and weight. Due to the location of neck skin on the body, loose neck skin is particularly hard to tighten naturally.
What Causes Neck Skin to Sag?
There are a variety of factors that can cause the skin around the jawline, chin, and neck to begin to sag. While many experts point to the natural aging process, it's entirely possible that this condition can develop as the result of genetics, external environmental factors, and even stress. As collagen and elastin levels decrease, the skin around the neck and chin becomes loose and loses volume over time.
For many individuals dealing with this condition, the change is an unwelcome one as the aesthetic of neck skin doesn't match the rest of the face. In this scenario, when an entire facelift isn't the issue, a chin and neck lift can work wonders towards achieving a more youthful and vibrant appearance once more.
What Can a Chin and Neck Lift Address?
A lift of this type works to target problematic areas of loose skin that are most noticeable around the chin and neck. This natural neck lift procedure can quickly and efficiently remove the appearance of jowls in the lower face that develops as a result of skin relaxation and excess fat development.
This type of treatment option can also eliminate fat deposits underneath the chin that can lead to a distorted facial aesthetic. For some patients, a chin and neck lift is the answer to muscle banding that has occurred in the neck and leads to contours that are less than pleasing. While a chin and neck lift can improve overall appearance, it's important for patients to keep in mind that this a restorative procedure that addresses natural changes in the body.
Chin and Neck Lift Options
In the modern world of cosmetic treatments and services, patients enjoy a wide variety of options when it comes to procedural preferences and a chin and neck lift is no exception to the rule. Patients that are unhappy with the development of excessive fat deposits under the chin may elect chin and neck liposuction as the appropriate course of treatment. A neck lift in Michigan involves a cosmetic physician making small incisions either behind the ears or underneath the chin in order to swiftly remove fat deposits using a small cannula. The result of this procedure is often a more defined and sculpted jawline overall.
Patients who are looking for a procedure with tightening effects, as opposed to fat removal, may lean towards options like a traditional chin and neck lift where a cosmetic physician uses similar small incisions to remove excess skin and pull the remaining skin taut for a more youthful appearance upon recovery.
About our Neck Lift Michigan Procedure
Cosmetic chin and neck lifts are great ways to achieve younger and tighter-looking skin. Age with beauty and stop worrying about your neck and jowls, click here for more information on the amazing results. For more information on the cost of a natural neck lift procedure, and to set up a consultation, please contact Skin & Vein Center at 800-400-8346.
FAQ
How long does a neck lift last?
Our experienced plastic surgeons at the Skin & Vein Center follow all the necessary steps to ensure long-lasting results for the client and expect the Neck Lift to last from 10 to 15 years.