SmartLipo – Smart / Laser Liposuction
Conveniently located to serve the areas of Fenton, Sterling, Livonia and San Diego, CA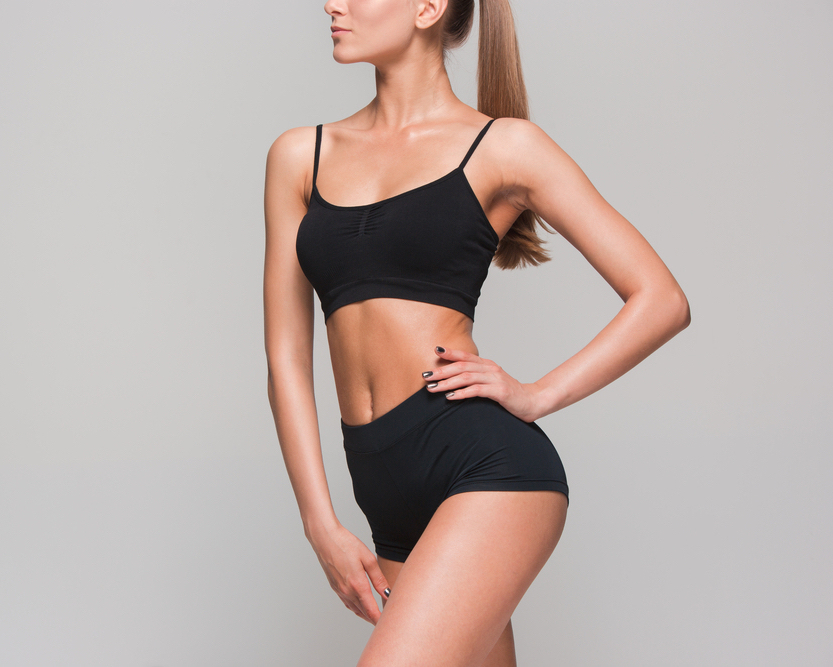 SmartLipo is the first laser-assisted liposuction approved by the FDA to be used for fat dissolution. Its benefits are so great that it makes traditional liposuction procedures a thing of the past. While there is no such thing as cheap liposuction, SmartLipo is more affordable because it is done in the office, right in our Michigan laser center, and because it tightens skin, it is a great alternative to a tummy tuck.
About SmartLipo®
SmartLipo is a form of cosmetic laser lipo that safely and effectively melts fat while coagulating blood in the blood vessels. The laser produces a burst of energy that enters the fat tissue and liquefies it. If you are looking for immediate, effective liposuction results, with the least amount of downtime, SmartLipo is your choice. This is why we highly recommend it at our Michigan laser center, the Skin and Vein Center, where Smart Lipo in Michigan for arms is also popular.
Benefits
Fast Recovery
Less Bruising
Minimal Swelling
Considerably Fewer Side Effects
Less Bleeding
Little to No Pain
NO General Anesthesia
IMMEDIATE Results
Other benefits of Smart Lipo in Michigan at the Skin and Vein Center, compared to traditional liposuction surgery, include smoother contouring results and tighter skin in the treatment area. SmartLipo is effective for chin liposuction, liposuction for arms, stomach liposuction, neck liposuction, and breast liposuction. Skin & Vein Center can explain the benefits (and our other great procedures) to you in person at a free consultation. Contact us today for more information about SmartLipo in Michigan at 800-400-8346.
Is SmartLipo® Right For You?
Ideal patients for SmartLipo® are those who are in good health, within 25 pounds of their ideal weight, eat right and exercise regularly but want to get rid of extra fat that stubbornly won't seem to respond to diet and exercise. Those who suffer from heart problems, kidney problems or any kind of blood disorder or disease are not recommended to seek SmartLipo®.
Some risks associated with SmartLipo® include the possibility of bruising and swelling and a small possibility of burns associated with the heat from the laser. Some scarring may occur though it would be minor in appearance.
Procedure
The SmartLipo® process is simple enough. To begin with, the surgeon will mark the problem areas before injecting the local anesthetic mixed with a tumescent fluid to numb the area and control the bleeding.
In traditional liposuction methods, the surgeon manually breaks up the fat deposits, but with SmartLipo®, the laser turns the fat into a liquid first making the removal process much gentler on the patient. With a local anesthetic, the patient is able to remain awake during the process while experiencing minimal discomfort.
SmartLipo® Results
Liposuction before and after the results showcase patients who have benefitted from the procedure on various parts of their bodies including the abdomen, back, bra line, hips, thighs, knees, arms, neck and anywhere else where traditional liposuction is used. In most cases, patients only require one treatment to see full results. Patients can have several areas treated by SmartLipo® at once.
The SmartLipo Difference
SmartLipo treatments have grown in popularity as new improvements in the procedure continue to be made to offer patients traditional liposuction effects without extensive surgery. SmartLipo uses a local anesthetic instead of a general anesthetic which allows patients a much quicker recovery and the ability to return to their normal activities much sooner. SmartLipo results are also oftentimes much more obvious!
Typical liposuction procedures are more invasive and come with a much higher risk of complication whereas SmartLipo uses a smaller cannula of only 1/116th of an inch in diameter, with no need for stitches or a drainage tube post-treatment. SmartLipo procedures are the least complicated liposuction treatments available today and are also much less costly than the added surgical facility and anesthesia costs of traditional liposuction procedures.
Those undergoing traditional liposuction can expect to take strong pain medication directly following their surgery while dealing with drains and stitches which can add to their discomfort. Because the SmartLipo is much less invasive, pain pills are not as common and no drains are required for ridding the body of extra fluids.
When it comes to traditional liposuction, patients can expect to lose significant blood as a serious surgery is required to perform the procedure but with SmartLipo the blood loss is minimal.
Healing Times
Healing times differences between SmartLipo and traditional lipo methods is significant. Those undergoing traditional treatment can expect the swelling to last anywhere from two weeks up to two months following surgery with bruising and numbness lasting for several weeks. SmartLipo patients may notice swelling for a couple of weeks at most though bruising and numbness will still last for up to several weeks. Traditional liposuction patients can expect to refrain from work for up to three weeks following their procedure whereas patients undergoing SmartLipo are generally able to return to work within days.
One of the most appreciated differences in traditional liposuction vs. SmartLipo is the difference in how quickly patients are able to see results. Traditional liposuction patients may not see the full results of their liposuction for six to nine months while SmartLipo patients can expect to see optimal results within months
Schedule
Schedule an appointment with Dr. Seiger today to find out if the procedure is right for you. When unwanted fat just refuses to disappear, SmartLipo® is an effective and safe alternative. At the Skin and Vein Center, we focus on delivering a more confident and healthy you!
FAQ
What is SmartLipo?
SmartLipo is an FDA-approved, laser-assisted procedure used for fat dissolution.
Who is a good candidate for SmartLipo?
Good candidates for Smart Lipo are those looking for a way to get rid of bulges and fatty areas that are not responding to diet and exercise.
What is the SmartLipo procedure?
A small cannula is inserted into the treatment area through which a laser fiber is inserted. The laser fiber will then direct energy into the area disrupting and loosening the fat cells and fatty tissues. The fat is then gently suctioned away.
What kind of anesthesia is used during SmartLipo?
A local anesthetic will be used for the SmartLipo procedure.
How can I prepare for SmartLipo?
Prior to your procedure, you should quit smoking, avoid salty or processed foods. You should also not take aspirin, alcohol, chocolate, caffeine or any medications that could complicate the surgery.
What can I expect during the SmartLipo procedure?
You will have very little discomfort during the procedure, although you may feel some minor pressure.
What can I expect post-procedure?
You may experience some minor bruising after the procedure. There may be some achiness that can be alleviated with over-the-counter pain relievers. The bandages over the incisions may need to be changed, and you may also be required to wear compression garments to promote healing.
What is the recovery time for SmartLipo?
You should be able to return to your normal schedule within a day or two.
What are the risks associated with SmartLipo?
As with any medical procedure, there are possible side effects and risks. The most common are mild discomfort, swelling and bruising. Other risks include scars, blisters, burns, or infection.
What is the SmartLipo liposuction cost in Michigan?
The cost of Smart Lipo and liposuction in Michigan will be discussed at the time of the pre-operative visit. Contact us to learn more about the liposuction cost in Michigan!