Morpheus8
Conveniently located to serve the areas of Fenton, Sterling, Livonia and San Diego, CA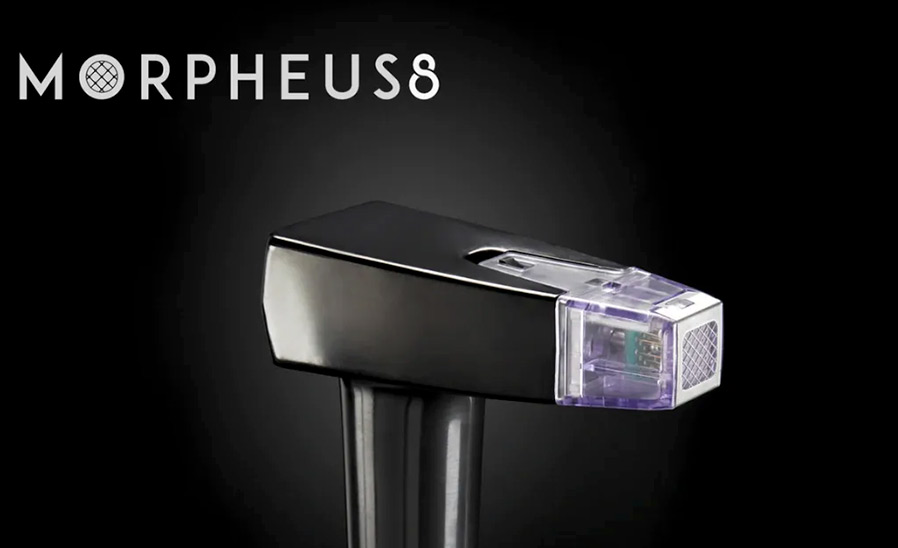 Morpheus8 is a radiofrequency energy micro-needling treatment. It's an important addition to today's skincare therapies and is made by InMode, an industry leader in energy-based aesthetic technology. This minimally-invasive procedure is an effective treatment for patients who want to improve skin laxity, fine lines, wrinkles, acne scars, or overall skin texture and tone. It works well on all skin types and can also be used for skin tightening and specific concerns such as jowls or "turkey neck." Morpheus8 safely renews your skin from within, regenerating the deeper layers without harming the surface of your skin. Additionally, the energy emitted from the device is precisely controlled and stimulates collagen production effectively.
Dr. Eric Seiger is a board-certified dermatologist and cosmetic surgeon with offices in Fenton, Sterling Heights, and Livonia, MI. He and his team can help you achieve beautiful, natural-looking results with Morpheus8. If you are interested in learning more about this exciting new technology or any of the other procedures we offer at Skin & Vein Center, contact our office today to schedule a consultation. Call (800) 400-8346 or fill out our contact form to receive a call from our scheduling coordinator.
If you love learning more about the newest trends in cosmetic improvement, follow our blog!Before & After PhotosView More Photos
Before and After Photos
What is Morpheus8?
Morpheus8 is an innovative fractional radio frequency and micro-needling treatment that remodels tissue, and is proven to be safe and effective. [1] Morpheus8 delivers radio frequency waves that are emitted through a microneedling device. This renews the deep layers of the dermis, which can help reduce the appearance of wrinkles, fine lines, acne scars, and uneven texture within a short period of time.
Morpheus8 is an ideal procedure for people of nearly all skin types. With little recovery time and amazing results, this treatment can help address a wide range of skin concerns, including:
Skin laxity
Acne scarring
Wrinkles & fine lines
Skin discoloration
The appearance of large pores
Skin tone
Skin texture
The treatment is commonly used to improve the appearance of the face and neck, but it can be used on other areas of the body with lax skin as well. Some popular areas include the abdomen, buttocks, chest, arms, or knees.
Unlike other microneedling devices, Morpheus8 uses microneedling in combination with radio frequency to stimulate the skin's natural repair process. The device has 24 tiny pins that penetrate the epidermis to create a wound-healing response, which allows for the release of important growth factors. These growth factors allow the body to regenerate stores of collagen, elastin, and create new blood vessels in a process called angiogenesis. What makes Morpheus8 different from other microneedling treatments is that the tips of the needles emit radiofrequency energy, which allows the underlying dermis to be treated.
How Does Radiofrequency Work?
The radiofrequency energy delivered by Morpheus8 is controlled and monitored to heat the tissue beneath the skin's surface; this heat helps stimulate collagen production, which results in firmer, smoother skin.
Morpheus8 uses monopolar radiofrequency technology, which creates an electromagnetic field that tissue resists rather than conducts, and this resistance results in a thermal effect. [2] This heat causes existing collagen fibers to thicken and contract, tightening and smoothing the skin while the microinjury from the needles stimulates the production of new, healthy collagen.
Collagen production is essential to maintaining youthful, healthy skin. As we age, our bodies produce less collagen, which can lead to sagging skin, wrinkles, and fine lines. Morpheus8 restarts collagen production for long-lasting, natural-looking benefits that gradually improve over time.
What Are the Benefits of Morpheus8?
Morpheus8 offers many benefits for patients, including:
Tightens skin without surgery
Reduces wrinkles and fine lines
Improves skin texture and tone
Stimulates collagen production
Can be used on all skin types
Morpheus8 is a great alternative for those who want to rejuvenate their appearance without surgery. Unlike many lasers that can cause pigmentation irregularities in those with darker skin types, radiofrequency doesn't affect the melanin that gives our skin its hue, so there is little to no risk of hyperpigmentation when used properly. [2]
This RF microneedling device provides deeper and faster results than microneedling or RF skin tightening treatments alone. Dr. Seiger can adjust the needle depth and radiofrequency intensity, depending on the area being treated and your desired results.
Ideal Candidates for RF Microneedling with Morpheus8
Morpheus8 can safely improve the appearance of all skin types and tones, effectively treating a wide variety of skin concerns. The stimulation of collagen production makes it ideal for improving skin texture, firming mildly sagging skin, smoothing wrinkles, and minimizing other signs of aging.
If you're looking to improve the appearance of acne scars, microneedling with radiofrequency energy is an effective option—just avoid it if you still have active acne, as the needles can spread bacteria that cause breakouts.
Morpheus8's microneedling technology helps by resurfacing the top layer of skin. As a result, those with sun damage or dark spots should see an improvement in their complexion post-treatment.
Morpheus8 is a customizable treatment. The needle depth of penetration and energy output can be controlled to precisely target different treatment areas, since the thickness of our skin varies depending on the location.
To find out if you are the ideal candidate for Morpheus8, please contact our office to schedule a consultation.
Personal Consultation
What a beautiful thing the consultation is. It's not just a chance for you to learn more about what we do, but it's also an opportunity for us to get to know you. And the better we know you, the better we can tailor our services to meet your needs.
During your consultation, we will discuss your goals and concerns. We will also assess your skin type and condition. Based on this information, we will develop a treatment plan that is customized just for you.
Dr. Seiger believes that consultation is an essential part of the process. It's a time for you to ask questions and learn more about what your options are to improve your skin. If you are interested in learning more about Morpheus8 or any of the other services we offer, contact our office today to schedule a consultation. Call (800) 400-8346 or fill out our contact form today!
What Can I Expect from My Procedure?
Depending on the size of the treated area, this treatment will take you as little as 15 minutes or up to an hour.
Before starting the procedure, we will cleanse and numb the treatment area. If your treatment plan includes the use of higher settings, or if you're particularly sensitive, additional anesthesia may be necessary. Another option is oral sedation but please note that it will make you unable to drive afterward, so please arrange for transportation in advance.
Morpheus8 is unique from other microneedling devices in that the depth of radiofrequency heat delivered by its needles can be customized to target different depths of skin (e.g., superficial, intermediate, deep). This means we can adjust the treatment based on your particular skincare needs.
During the procedure, your technician will methodically stamp the device across your skin, allowing the needles to penetrate below the surface and deliver pulses of radiofrequency energy. Even though your skin will be numbed during the procedure, you may still feel some manageable pressure and discomfort.
Recovery After Morpheus8
Morpheus8 recovery is easy, with only a few days of post-procedure symptoms. One to three days of redness, itchiness, and swelling can be expected after the treatment. During this time, you'll need to apply an antibacterial ointment, and avoid using makeup or other topical products, which can lead to further irritation or infection. That's because the microchannels in your skin will take up to 72 hours to close. Once they do, be sure to use broad-spectrum sunscreen with an SPF of 30 or higher whenever you go outside.
What are the Results of Morpheus8?
Benefits of Morpheus8, such as better skin quality and tone, can be seen within days by some people after their first treatment. Patience is key when waiting for any significant changes. Depending on the individual, it can take one to three sessions of treatments, and a few months to see the result of improved collagen and elastin production. However, studies have shown that in just 10 weeks after treatment, patients' skin was actively improving, with increased volume, and higher levels of hyaluronic acid and elastin.(1)
Once your new skin starts to reveal itself, the changes are long-lasting as your skin continues to produce collagen. Your skin will look smoother and more youthful with a healthy glow.
Corresponding & Complementary Procedures
As we mentioned, this treatment is effective on its own, but some patients find Morpheus8 an excellent way to enhance and maintain the results of Dr. Seiger's amazing HourLift mini facelift. Morpheus8 can also be used as a complement to cosmetic injectables like Botox and dermal fillers.
If you're interested in learning more about Morpheus8 or any of the other services we offer, contact our office today to schedule a consultation. Call (800) 400-8346 or fill out our contact form today!
What is the Cost of Morpheus8 in Michigan?
The cost of Morpheus8 in Michigan will vary depending on the number of sessions needed to achieve your desired results, as well as the size of the treatment area(s). During your consultation with Dr. Seiger, he will develop a customized treatment plan and provide you with a detailed estimate of the cost.
Don't wait another minute to have the youthful skin you deserve. Contact our office today to schedule your consultation and learn more about Morpheus8 in Michigan!
References
Dayan E, Chia C, Burns AJ, Theodorou S. Adjustable Depth Fractional Radiofrequency Combined With Bipolar Radiofrequency: A Minimally Invasive Combination Treatment for Skin Laxity. Aesthetic Surgery Journal. 2019;39(Supplement_3):S112-S119. doi:10.1093/asj/sjz055
Gentile RD, Kinney BM, Sadick NS. Radiofrequency Technology in Face and Neck Rejuvenation. Facial Plastic Surgery Clinics of North America. 2018;26(2):123-134. doi:10.1016/j.fsc.2017.12.003