Mini Facelift in San Diego
Conveniently located to serve the areas of Fenton, Sterling, Livonia and San Diego, CA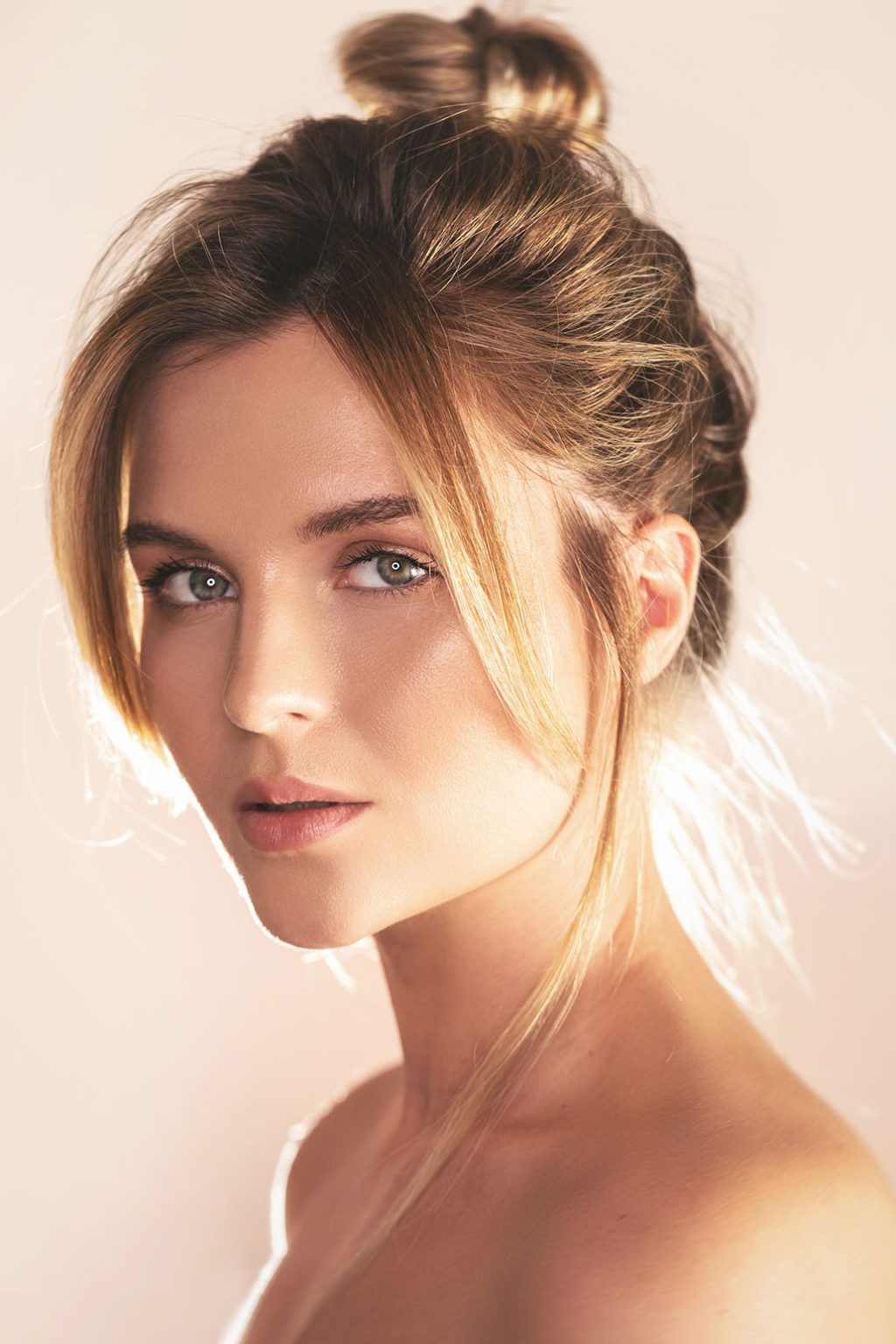 A mini facelift is a transformative cosmetic procedure that focuses on rejuvenating and enhancing the appearance of the face. As we age, our skin gradually loses elasticity, leading to sagging and the formation of wrinkles. Factors such as genetics, sun exposure, and lifestyle choices can accelerate this process, causing us to look older than we feel.
At Skin & Vein Center in San Diego, led by Dr. Eric Seiger, we specialize in mini facelifts, providing patients with natural-looking results that restore a youthful facial appearance. This minimally invasive surgical technique targets specific areas of concern, such as the jowls, lower face, and neck, to address signs of aging and give you a refreshed and revitalized look.
If you are seeking a trusted expert in facial appearance enhancement and want to reverse the effects of aging, contact Skin & Vein Center today at (800) 400-8346 or use our simple inquiry form to send us a message. Our friendly staff will be happy to assist you in scheduling your initial consultation. Take the first step towards achieving a more vibrant and confident version of yourself.
Before After Photos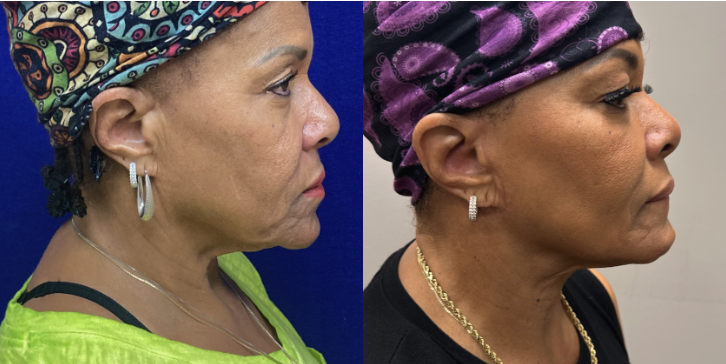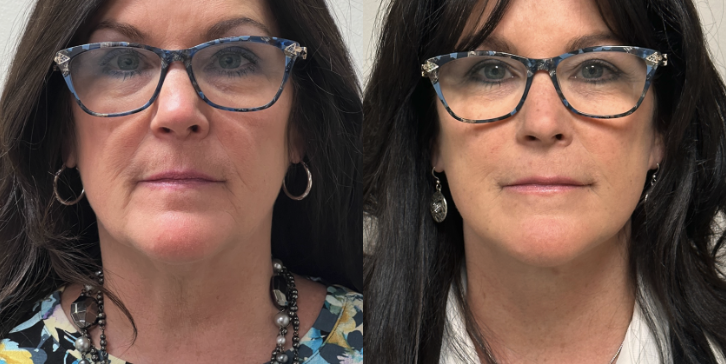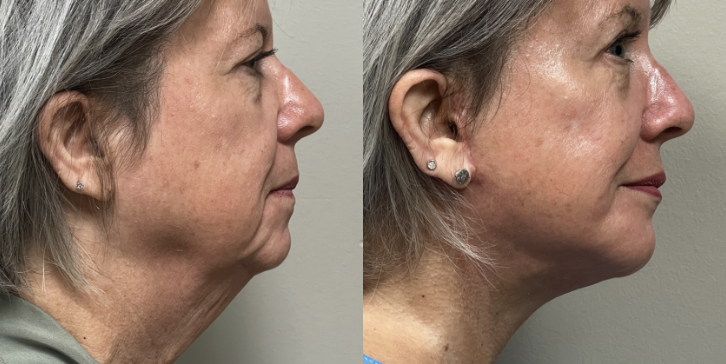 View Gallery
What's Different About the Mini Facelift?
A facelift, also known as a rhytidectomy, is a surgical procedure that targets multiple areas of the face and neck. It involves making incisions along the hairline and behind the ears to access deeper layers of tissue. Through these incisions, excess skin is removed, underlying muscles are tightened, and the remaining skin is re-draped for a smoother, firmer, and more lifted appearance.
The mini facelift, also referred to as a limited-incision facelift, is a less invasive alternative that focuses on specific areas of concern. This procedure typically targets the lower face, including the jawline and jowls. By using smaller incisions, usually confined to the front of the ear, a mini facelift can lift and tighten moderate facial sagging and smooth out mild to moderate wrinkles. What's more, the procedure and recovery time are shorter. (1)
What is the SMAS?
The SMAS, or the Superficial Musculoaponeurotic System, is a crucial component in facelift surgery and other facial rejuvenation procedures. It is a layer of connective tissue that lies beneath the skin and covers the muscles of the face and neck. (2) The SMAS provides support and structure to the facial tissues.
As we age, the SMAS can become weakened and stretch, leading to sagging skin, jowls, and an overall loss of facial definition. This is why addressing the SMAS is essential in achieving optimal facial rejuvenation. By tightening and repositioning the SMAS during mini facelift surgery, a skilled plastic surgeon can restore a more youthful appearance to the face.
Find out more about the HourLift family of mini facelifts.
Benefits of a Mini Facelift
Reduced Wrinkles and Fine Lines
Tightened Facial Skin
Restored Facial Contours
Natural-Looking Results
Refreshed and Rejuvenated Look
Enhanced Facial Symmetry
Long-Lasting Effects
If you are bothered by the signs of facial aging and desire a smoother, rejuvenated appearance, a Mini Facelift may be a suitable option for you. Contact Skin & Vein Center in San Diego for a consultation to discuss your goals and determine if you are a candidate for this procedure.
Candidates for a Mini Facelift
The mini facelift is often preferred by patients who have less advanced signs of aging and desire a more subtle rejuvenation. Through a mini facelift procedure, patients can still achieve a lifted, smoother facial appearance without the longer incisions associated with a standard facelift.
Personal Consultation
When it comes to achieving your desired facial rejuvenation, a personal consultation at the Skin & Vein Center in San Diego is the crucial first step. During this comprehensive consultation, we will take the time to understand your unique cosmetic concerns and medical history, ensuring that a mini facelift is the appropriate procedure for you.
Cost of a Mini Facelift in San Diego
The cost of a mini facelift will vary depending on several factors specific to each patient's unique treatment plan. These factors include the techniques utilized, the type of anesthesia required, and the extent of the surgery needed to achieve the desired results.
We are committed to transparency and will provide you with an accurate estimate for the price of your mini facelift during your consultation, so you can make an informed decision about your cosmetic journey.
Discover more about the HourLift on our website. Read more about facelift surgery on our blog.
References
Van Pham T, Truong KHTN. Short or Minimum Incision Deep Plane/Extended Deep Plane Facelift/Rhytidectomy. Facial Plastic Surgery. 2020;36(04):376-385. doi:https://doi.org/10.1055/s-0040-1714118
Whitney ZB, Jain M, Zito PM. Anatomy, Skin, Superficial Musculoaponeurotic System (SMAS) Fascia. PubMed. Published 2020. https://www.ncbi.nlm.nih.gov/books/NBK519014/